Power Flushing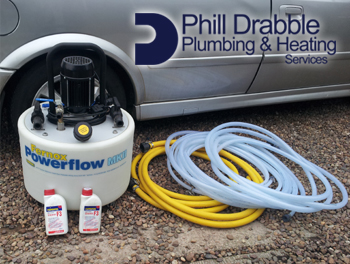 Power flushing is sometimes referred to as Jet Flushing or Hard Flushing. The aim of power flushing is to restore your central heating systems to optimum operation. Power flushing removes sludge and corrosion deposits that might be causing your boiler to make noise or prevent water circulating correctly.
New Boiler and Power Flushing
If you are having a new boiler fitted, it is advisable to have your central heating system flushed to remove corrosion deposits and sludge. These are usually found in systems even if no symptoms have shown. These deposits can be mobilised when alterations are made to the system and find their way into the new boiler heat exchanger, causing noisy operation, reduced efficiency and, in extreme circumstances, failure of the boiler.
Once the flushing process is complete, the system will contain fresh, clean water. Your central heating system is reverted to normal operation in minutes.
Power Flushing and Metal Particles
Over time, your central heating system can gradually build up deposits of metallic particles that could potentially damage your central heating boiler. The images below show a central heating system recently power flushed by us.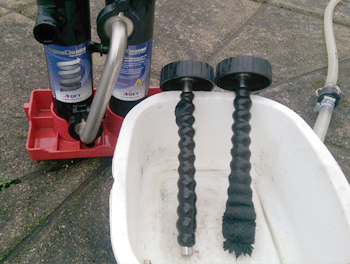 The equipment that we use removes virtually ALL of the suspended black iron oxide particles in ONE power flushing operation leaving your central heating system free from potential damaging metallic particles. Once these particles have been removed from your central heating system, it may be worth considering installing a central heating filter, which can prevent future circulation of metallic particles..
Power Flushing Equipment
Phill Drabble Plumbing & Heating Services uses the Fernox Powerflow Flushing Machine MKIII which is designed to:
Power flush central heating systems to remove corrosion debris, sludge and scale
De-scale boilers
Overcome boiler noise and circulation problems
Clean a system with just ONE visit to site
High temperature operation to enable faster cleaning
Power Flushing Process
Step 1 - Chemicals are added to the system to loosen up sludge.
Step 2 - Each radiator is flushed in turn with the other radiators turned off. There is no need for physical removal of the radiator.
Step 3 - Frequent flow reversals during flushing to disturb the maximum amount of sludge.
Step 4 - Boiler, radiators and all pipe work gets flushed until water runs clear.
Step 5 - Inhibitor chemicals are added to system to prevent future sludge build up.
Step 6 - Central heating system is re-balanced radiator by radiator.
Do I need a power flush?
Are you experiencing any of the following problems.
Noisy heating system
Reduced hot water temperature
My radiators aren't working or have cold spots
It takes ages for the system to warm up
Radiators need regular bleeding of accumulated air
Evidence of sludge and rust in the system
Pump failures
Please contact Phill on 01909 732 362 or 07763 494 315 or email philldrabble@gassafeheating.co.uk